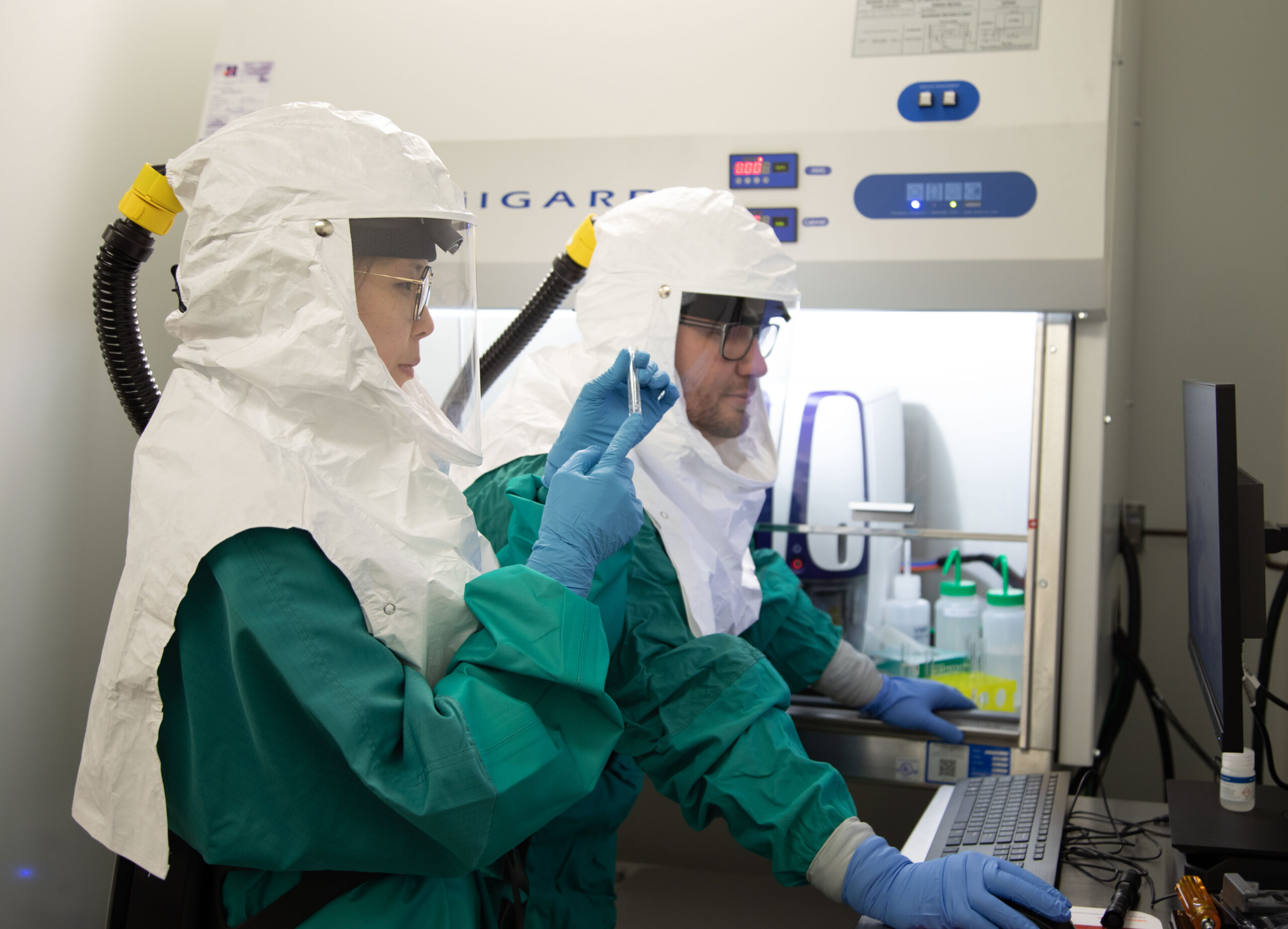 EPIC will work with partners in the Toronto Academic Health Science Network to combat infectious diseases and provide expertise on fighting the next pandemic.
Our Mission 
EPIC aims to harness the full potential of the EPIC Partners' diverse community of clinicians, scientists, engineers, public health and policy-focused infectious disease experts. Together, they are converging on innovative new approaches that will:
Ensure that we can effectively combat infectious diseases.
Prevent the rise of future pandemics.
Continue to advocate for science-based policies.
Educate the public.
Train the next generation of leaders to confront infectious diseases.
Why  is it critical to invest in EPIC?  
Previous pandemic responses (SARS-CoV-1, pandemic influenza, Zika Virus) have been short-sighted, with interest in and support for ongoing research drying up quickly after those pandemics were contained. Had coronavirus research continued after the SARS-CoV-1 virus was contained in 2003, vaccines, therapeutics and public policy would have already been available and the tremendous health, social, and economic consequences of SARS-CoV-2 could have been avoided. EPIC aims to maintain the momentum so that we can respond to future infectious challenges before they become global health problems. 
How did research conducted by the EPIC Partners help to fill this gap?
The U of T's Containment Level 3 (CL3) lab was one of the few in the country that maintained an active program on high-risk pathogens, including surveillance for those with pandemic potential in the period between SARS-CoV-1 and SARS-CoV-2. The CL3 lab is part of the Toronto High Containment Facility. 
Having this world-class research facility and expertise in place allowed our researchers to complete a variety of initiatives addressing the novel 2019 coronavirus. Projects focused and continue on vaccine development and testing, immune profiling of COVID-19, genetic susceptibility, pre-existing conditions, antibody-based inhibitors to block viral replication, novel therapeutics, and validation of virus deactivation to enable mask and ventilator re-use. This has all been possible because of the established high-containment facilities, the well-trained scientists capable of handling high-risk pathogens, and the authoritative regulatory program overseeing this work at the U of T.  
We must not wait until the next challenge emerges. Now is the time to innovate so that we can repel new pathogens as they arise. Now is the time for Canada to bolster our health security by leveraging the community that came together to combat COVID-19 and, similarly in 2022, mpox. Now is the time to train a new generation of researchers, engineers and public health policy experts to combat future health challenges.  
Will  this initiative make a difference to the future health of Canadians?  
The long-term mandate of EPIC and our modernized Toronto High Containment Facility (THCF) is to ensure that the devastating public health, economic, and societal damage caused by COVID-19 is not repeated.  When the next pandemic arrives, EPIC will provide the expertise and infrastructure to impactfully respond through rapid mobilization of research efforts and the development of informed regulatory, scientific, clinical and economic responses from our established team of experts. Increasing the capacity and resources available to government to evaluate and adopt research innovations will accelerate the implementation of appropriate medical countermeasures, and provide clear, science-based information to the public. 
How will EPIC impact global health?
Once we emerge from the current pandemic, infectious diseases will continue to cause the greatest disparity in health outcomes between wealthy and less wealthy regions of the world, both globally and within local communities. Climate change, the movement of human society into previously unpopulated areas, and global travel will continue to facilitate the emergence of new infectious diseases. The EPIC research network will work with equivalent institutes across Canada and the United States (VIDO, Guelph Veterinary School, NEIDL) and in other countries, including sites in Brazil, Ethiopia, Kenya, Uganda and others to improve global public health. A Global Scholars program will aim to address global health inequities by developing global research partnership programs with Low and Middle Income Countries (LMICs).  
Who is leading this initiative?
EPIC's scientific activities are being led by Academic Director Dr. Scott Gray-Owen. He is a professor of molecular genetics in the Temerty Faculty of Medicine. Dr. Gray-Owen is supported by the EPIC steering committee which includes the leads for each of the four pillars and their respective subcommittees. The four pillars are: Toronto High Containment Facility, Transformative Research, Impact, Training & Talent.  
The expertise of researchers includes:  
Microbiology, virology and infectious disease

 

Immunopathogenesis and immune-based therapies 

 

Public health and policy

 

Epidemiology

 

Drug development 

 

Diagnostic technologies

 

Disinfection and inactivation

 

Artificial intelligence and computational biology

 

Materials development and engineering solutions

 

Commercial and regulatory pathways to translate basic research

 

Knowledge translation and education

 
EPIC is also guided by leadership from the University of Toronto, Hospital for Sick Children, Lunenfeld-Tanenbaum Research Institute, Sunnybrook Research Institute, Unity Health Toronto and University Health Network. 
Are there examples elsewhere of what you are trying to do?
Where will EPIC be located?
The Toronto High Containment Facility (THCF) provides the physical hub for our networked virtual institute connecting Toronto's academic and clinical researchers, hospitals, public health agencies and industry to leverage diverse expertise and elevate this research community's profile. The TIDL contains the only C-CL3 research facility in the Greater Toronto Area, providing local, specialized infrastructure for U of T campus and its partner research hospitals.
EPIC will leverage the integrated research and clinical expertise available in the Toronto community to build a global centre of excellence in infectious diseases. U of T campus-based researchers, the Temerty Faculty of Medicine, the Toronto Academic Health Science Network hospitals and research institutes, the Institute for Pandemics, Institute of Biomedical Engineering, H2i, CAMH, Public Health Ontario are all engaged in this initiative.   
How will you report your results to the public?
EPIC will share its research through an annual symposium, Industry Connection Events, investigator-organized seminars highlighting EPIC research and trainee excellence. We will also host visiting scientists, speaker series, and offer networking events in collaboration with the Health Innovation Hub (H2i). EPIC members are also sought after as expert advisors by the media.