December 21, 2022
By Betty Zou
Researchers from the University of Toronto and Nigerian Institute of Medical Research have received $3 million from the federal government to launch an international project that will help inform the clinical and public health response to local and global epidemic of mpox (formerly known as monkeypox).
The new funding from the Canadian Institutes of Health Research (CIHR) and International Development Research Centre builds on the collaborative projects and seed funding from the mpox rapid research response launched by the Emerging and Pandemic Infections Consortium (EPIC) earlier this year.
The Canada-Africa Mpox Partnership (CAMP) brings together 68 researchers with multidisciplinary expertise from Canada, Nigeria, the U.S. and U.K. It is co-led by Darrell Tan, an associate professor in the Temerty Faculty of Medicine and infectious disease physician at St. Michael's Hospital, a site of Unity Health Toronto, and Rosemary Audu, director of research and head of the microbiology department at the Nigerian Institute of Medical Research. Tan is also the operational co-lead of EPIC's mpox rapid response efforts.
"Our team is honoured to receive this funding to study this previously overlooked infectious disease, and is excited to launch this work," said Tan.
"Mpox has caused tremendous suffering, stigma and other harms in Canada and worldwide, most notably among gay, bisexual and other men who have sex with men during the 2022 outbreak. The initial support from EPIC was instrumental in allowing us to launch our research within days of the epidemic arriving in Canada and was pivotal to our securing this large grant."
The CAMP project focuses on three main topics across diverse epidemiological, geo-social, and health system contexts: mpox transmission, treatment and vaccines.
In the first sub-project, the Mpox Prospective Observational Cohort Study, CAMP researchers are working to understand transmission from multiple angles. This will include looking at how the virus is spread between humans, including those who are asymptomatic or presymptomatic, between humans and animals, and from contaminated surfaces. A key component of this work involves mathematical modelling to study how factors like differences in size and features of sexual and social networks, health care access and vaccines might shape the differences in outbreak dynamics across regions within each country, and differences in outbreaks between the two countries.
For the second sub-project, the team is conducting a randomized controlled trial to assess the safety and effectiveness of the smallpox drug tecovirimat as a treatment for mpox. Currently, no drugs have been directly tested and shown to be effective against mpox in humans. By using the same design and measuring the same outcomes as similar trials in other countries, this trial, which also received funding support from the Public Health Agency of Canada and CIHR Canadian HIV Trials Network, will contribute to global data on the efficacy of tecovirimat.
Similar to the lack of human efficacy data on mpox treatments, there is also a need for high quality data on the safety and effectiveness of the smallpox vaccine Imvamune that is currently being offered to individuals at high-risk to protect against mpox. The last sub-project focuses on evaluating the role of the Imvamune vaccine to prevent mpox infection in humans. The team is using observational data to determine the vaccine's safety and effectiveness, including how the effectiveness changes based on the number and timing of doses, amount of time since vaccination and patient subgroup.
"The paradigm shift in the epidemiological pattern of mpox from the initial sporadic reports from endemic countries, including Nigeria, to the sudden surge in non-endemic regions such as Canada, calls for more scientific studies on the absence, grey areas and misconstrued aspects of mpox," said Audu.
"This grant will provide the necessary support for enhanced diagnosis and surveillance, using a collaborative approach for collection and cascading of responses in both countries to help mitigate the impact of this emerging and re-emerging disease globally."
Two central components of the CAMP project are multi-directional capacity building and community engagement. To support capacity building at multiple levels, the project will pair senior researchers as mentors to early career researchers and provide opportunities for skills development and best practices sharing between the Canadian and Nigerian teams. The research team will also draw on their collective experience in HIV research in both countries to meaningfully engage community-based organizations, including working with community advisory boards across all projects.
"We are pleased to see the leadership and expertise of EPIC members recognized by federal partners. The extension of our mpox rapid research response into the CAMP project will not only support our efforts to contain the outbreak in Canada, but also help guide public health measures in countries where the virus is endemic," said Scott Gray-Owen, professor of molecular genetics at U of T and director of EPIC.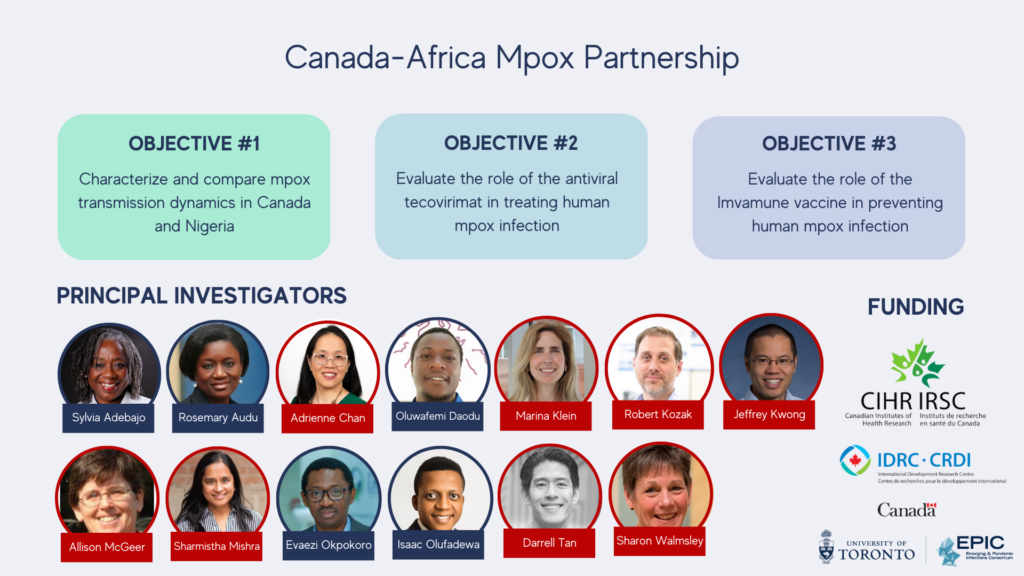 As Canada's leading initiative for infectious diseases, EPIC brings together the unparalleled and diverse expertise of its members at U of T and five hospital research partners – The Hospital for Sick Children (SickKids) Research Institute, Lunenfeld-Tanenbaum Research Institute at Sinai Health, Sunnybrook Research Institute, Unity Health Toronto and University Health Network – to accelerate innovative and multidisciplinary research on high-risk, high-burden pathogens.
A consortium of four institutions in Nigeria – the Nigerian Institute of Medical Research, Institute of Human Virology, Nigeria, University of Ilorin and Slum and Rural Health Initiative Network – will lead the research alongside U of T and its hospital partners, in collaboration with other national and international partners. In addition to the new knowledge that will be generated to help combat this endemic disease in Nigeria, the consortium will co-develop regional capacity around rapid clinical trials, biostatistics and mathematical modelling, which will be valuable in responding to future infectious disease challenges.