Originally published on the University of Toronto website
 By Geoffrey Vendeville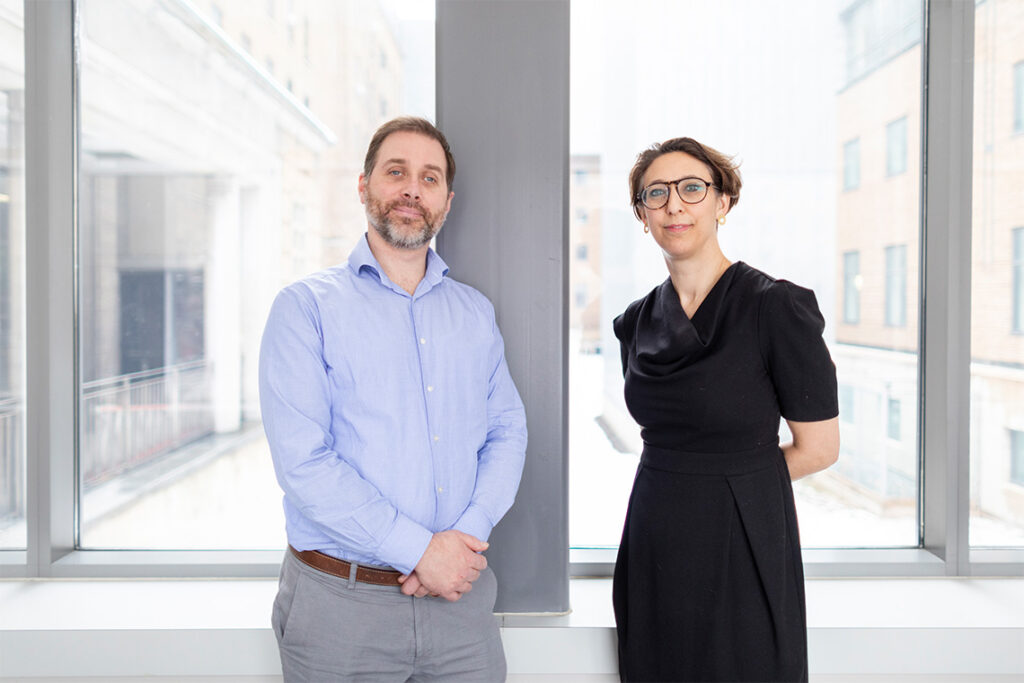 Robert Kozak and Samira Mubareka are part of a local working group of scientists researching the COVID-19 coronavirus outbreak and developing a suite of tools to control it (photo by Nick Iwanyshyn)
 In order to contain a virus, it's important to know exactly what you're dealing with – and the COVID-19 coronavirus is no different. 
 "One of the key tools to try to contain or limit transmission of infectious diseases is case identification," says Samira Mubareka, a virologist in the University of Toronto's Faculty of Medicine and at Sunnybrook Health Sciences Centre.
"If you identify cases, then you can contain them. If you miss them, then you don't.
Mubareka and her colleague Robert Kozak, both in U of T's department of laboratory medicine and pathobiology, are part of a local working group of scientists who are researching the novel coronavirus outbreak and are developing a suite of tools to control it.
 One of their current projects involves using the latest in whole-genome sequencing technology to help hospitals characterize the virus more quickly. Their work may help to track the virus's evolution and trace its spread. 
"If the virus's genome was a book, we're going to figure out its entire story," Kozak says.
 Mubareka and Kozak collected specimens of the coronavirus from the first confirmed case in Canada, an adult male who was treated and eventually discharged from Sunnybrook after returning from Wuhan, China – the epicentre of the outbreak. Two more cases in Ontario have since been confirmed: the original patient's wife, who accompanied him to China, and a woman in her 20s in London, Ont. who had also traveled to Wuhan. 
 Worldwide, there are more than 73,300 confirmed cases of COVID-19 as of Feb. 18. More than 1,800 have died.  
Robert Kozak, pictured here in the CL2 lab, and Samira Mubareka say their team's work will enable front-line hospital staff to run a test on-site, helping to identify and triage patients more efficiently (photo by Nick Iwanyshyn)
In Canada, where there are so far seven confirmed cases, health authorities say the risk remains low. But Mubareka and Kozak are preparing for any possible scenario.
 "You put a smoke alarm in your house even if you hope there's no fire," says Kozak, who previously worked at the National Microbiology Laboratory in Winnipeg on Ebola and Zika. Part of the team's work involves developing a test that will speed up the characterization of the virus. Currently, patient samples in Ontario are sent from local hospitals by courier to the Public Health Ontario lab in downtown Toronto for testing, and to the national lab in Winnipeg for confirmation. 
 The process can take a few days, depending on the hospital's distance from the labs and test volumes.  
 Mubareka and Kozak say their team's work – in collaboration with McMaster University and infectious disease expert Allison McGeer of U of T's Dalla Lana School of Public Health, Faculty of Medicine and Mount Sinai Hospital – will enable front-line hospital staff to run a test on-site, helping to identify and triage patients more efficiently. The test involves using swabs from a patient's nose and throat to do genomic testing to sequence the virus. 
 "If they're negative, you can take them [the patients] out of precautions and maybe even send them home," Kozak says. "If they're positive, then you can again take the appropriate precautions to isolate them and do everything else that needs to be done."
 The researchers hope they can adapt the approach for mini-sequencers the size of a cell phone, so it can be used more widely. 
 "With its cross-disciplinary expertise and close relationships with area hospitals, the university recognizes that it's uniquely positioned to play a leadership role when it comes to these sorts of global health issues," Goel says. 
"We also have the benefit of having experienced the SARS outbreak in Toronto in 2003, so we know first-hand how important this sort of research can be."
 The genomic testing being performed by the U of T-led group could also help researchers get a fuller picture of the mysterious illness. 
 Although genomic sequences of the virus were published and shared in public databases, many were deposited soon after the first cases were identified in China's Hubei province, according to Mubareka.
  "The problem is that was early on before it started going from person to person-to-person," she says, noting that viruses mutate. 
 There are only about 50 sequenced genomes of the virus, adds Kozak – for about 48,000 confirmed cases.
 "You're not getting a great snapshot," he says. "It's tough to really understand a lot about the virus."
 Among the nagging questions about COVID-19 that U of T and Sunnybrook researchers hope to answer are how long patients remain contagious and if the amount of the virus present in respiratory secretions is proportional to its severity. 
 Their work may help others understand how the virus spreads from point A to point B, and if it's changing in ways that make it more dangerous.
 The research team includes U of T students like Natalie Bell, a second-year master's student in laboratory medicine and pathobiology who is also working with Mubareka on a project related to influenza from swine.
 "It's really interesting to see science happen in real time, especially being part of Sam's lab [and] to see her involvement and the movement from lab to policy work, and how it impacts public health," Bell says. 
 Mubareka and Kozak plan to upload the sequencing data to public servers and share it with the world to help with epidemiological studies and vaccine design. 
 We will build global capacity any way that we can," Kozak says. 
 Mubareka and Kozak say their work was made possible thanks in part to the McLaughlin Centre, which provided emergency funding for the project. "We have no shortage of ideas of things we can do to hopefully make a difference," Kozak says, "but you always need someone to provide the resources to do it."
 Stephen Scherer, the director of the McLaughlin Centre at U of T and a University Professor in the department of molecular genetics, says the centre wanted to make sure the researchers had the necessary funds to do their work in time.
 "Nobody is busier right now than this group, so we wanted to make the process as easy as possible for them," Scherer says. "We also wanted these researchers to know the rest of us value their efforts to keep us safe."